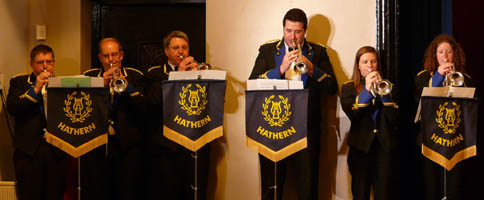 Goodbye Marian, Kom snel terug!
July 11, 2012
After 6 months with the Band Marian is returning to the Netherlands. It has been lovely having her in the Band and we hope she comes back soon. I am sure we will keep in touch and who knows, we might be able to arrange a Band trip to America! x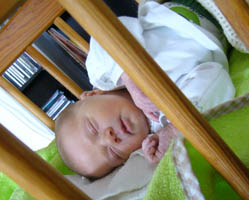 Croc's Baby!
July 1, 2012
Congratualtions to Christina and Mark on the birth of Amanda Barbara, she looks lovely, not sure she looks like a trombone player..
Mother, Baby and FATHER! (Dr Mark Terner to give him his full name) all doing well xx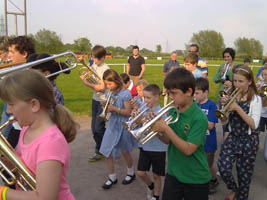 May news
May 31, 2012
With the Jubilee and Bank Holidays not too much to report as players have been celebrating with family and friends, but a busy summer ahead for both the Hathern Band and the Concert Brass!
The Senior Band gave a Concert in Emmanuel Church for the Loughborough Lions who were raising money for local charities. A brilliant concert much appreciated by a large audience and finishing with singing and flags waving as the Band played Pomp & Circumstance. Despite still being in plaster after a serious operation on his legs in December, one of our young very promising cornet players, 10 year old Freddie Buchanan, made it to the concert to play. Also making his debut, another young cornet player from our Youth Band, Dru Sparks.
A reminder that if you have a youngster who would like to play a brass or percussion instrument, please contact our Secretary. Instrument, music and tuition are provided free of charge to young people wishing to learn to play. Absolute beginners start with one-to-one tuition, then progress through to the Training Band. The band is directed by David Newman with players from the main Hathern Band assisting with tuition and they meet at the Bandroom on Pasture Lane in Hathern every Monday evening from 6 – 7 p.m.. Parents are welcome to accompany their children.
Its never too early to learn to march! the picture shows the Training Band having marching practice on one of the few sunny Monday evenings we have had.
Grant request
May 8, 2012
Last night Rebecca Simms, Andrew Haworth, John Worsfold & Helen Simms represented the Band at the Shepshed and Hathern Area Forum. This Forum is responsible for granting money to local organisations to help them with the running of their organisations. This year they had £12,500 to distribute to organisations in Shepshed & Hathern.
The Hathern Band had previously completed a written application form applying for £3,500 to go towards the purchase of 2 instruments for the Band.
There were 15 other requests for grants and each organisation had 2 minutes to present their case to an audience of local people, councillors and other worthies. Rebecca volunteered to give a PowerPoint presentation about the Band and its structure, emphasising the way that young people are trained within the organisation, Rebecca herself being a product of the "system". Well done to Rebecca on an excellent presentation.
In the end, there was pressure to reduce the amounts that organisations were requesting so that more 'got a slice of the cake' so the Band decided to lower their bid to £2500.
In the voting which followed, the Band were placed 4th out of the 16 and their request for £2500 will be recommended to the Leicestershire County Council who have the final say, but we understand this is a formality. You can see on the link below the final results for the evening.
http://www.leicestershireforums.org/shepsh/your-voice—view-and-comment-on1.html
Thank you to everyone who helped with the preparation of the bid, and to all the Band supporters who went along on the evening to support the bid and to those who took the time to comment online prior to the evening.
Lesley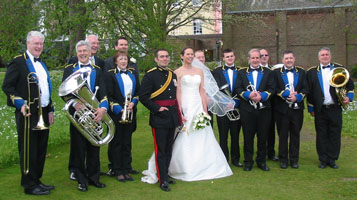 Doctor Katherine Williams
April 15, 2012
Some of the Band yesterday travelled to Cambridge to play at the wedding of one of our 'old players' Katy Williams. Katy and her brother Tim both learnt to play with Hathern Band and it was great to go and meet up with them again. Katy is a Captain in the Army and is just completing her GP training and she married Major Robin McCallum.
The picture shows the Band (who had to be persuaded to put down their glasses of champagne! so there will be another more organised photo at some point) with Katy, Robin & Tim outside the Chapel at Sidney Sussex College at Cambridge University where Katy was a student.