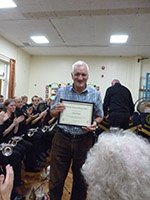 Stuart Evans
June 26, 2018
It is with great sadness that I have to tell you of the sudden death on Tuesday 26th June 2018 of Stuart Evans.
For those of you who don't know Stuarts full banding history with Hathern, he joined in the mid 1950's as a very young boy (there are some lovely photo's of him on the band room wall). He was part of the 1969 Band who qualified for the National Finals in London, part of the 1984 Band who qualified for the National Finals in London, this time playing at the Royal Albert Hall, through to being part of the Hathern Band who won the 2nd Section National Finals in Harrogate in 2004. He was a big part of the Bands success from the mid 1990's in their rise from the 4th Section through to the Championship Section. Stuart was a very fine baritone and after taking a short break from playing returned to playing in our Concert Brass.
With a dry sense of humor and a ready wit, Stuart was never short of a quick line to make us all laugh.
Rest in peace Stuart, we'll all miss you very much.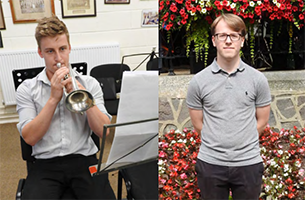 CONGRATULATIONS
June 22, 2018
We have some very clever players in Hathern Band!
Congratulations to Dru Sparks on getting a 1st Class Honours Degree in Mechanical Engineering from the University of Coventry
Congratulations to Tom Dyer Hill on getting a 1st Class Honours Degree in Chemistry from Queen Mary University in London.
Congratulations from us all!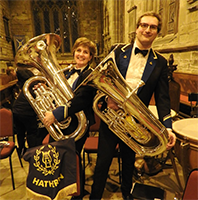 Newsletter Spring 2018
April 18, 2018
Our spring newsletter is now available: click here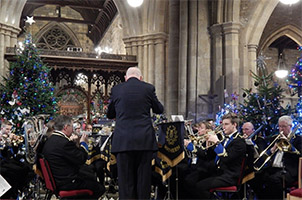 Newsletter Winter 2018
Jan. 25, 2018
Our winter newsletter is now available: click here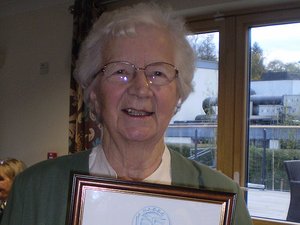 Betty Anderson HONORARY PATRON OF HATHERN BAND FOR OVER 30 YEARS
Jan. 10, 2018
Sadly I have to announce the death of Betty Anderson who died on 8th January after a long illness. Betty has been an Honorary Patron of Hathern Band for over 25 years.
Betty was a pioneer of women being active in Brass Bands, firstly as a fine tenor horn player with Kibworth Band and going on to conduct Ratby Band where amongst other distinctions she was the first female conductor to win the Grand Shield and to conduct at the British Open.
Betty has also been for many years a mentor and friend to many bands in Leicestershire and for over 20 years has been the President of the Leicestershire Brass Band Association. Many young players owe their training and interest in Brass Bands to this remarkable women. Her lasting legacy is the fine condition of Brass Banding in the East Midlands.