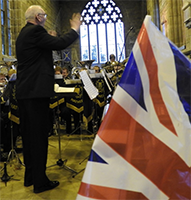 Newsletter Spring 2016
May 12, 2016
Our spring newsletter is now available: click here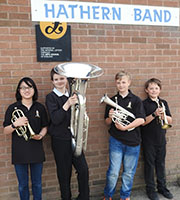 Youth Band Quartet
April 24, 2016
Hathern Youth Band Quartet who claimed the 3rd Prize in the Hymn Tune section at the Leicestershire Brass Band Association Solo, Duet and Quartet Contest held at Groby College.
Pictured from the left – Amadeo Tristanto (cornet) Sam Edwards (Eb Bass) Jack Browne (Tenor Horn) and Oliver Simpson (cornet)
WELL DONE!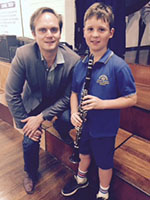 Richard & Will
April 1, 2016
Hathern Band Down Under!
Band Patrons Joy and Barrie Atkinson recently visited their son and his family in Sydney. One evening they went to see their grandson Will, who plays clarinet, in concert and found that Richard Sandham was conducting. Richard learnt to play with Hathern Band, played with the Central Band of the RAF and now works as a Program Manager and Conductor for Directions in Music – a music education service, which provides Sydney schools with band programs and instrumental tuition. Richard composed the piece Pasture Lane for us which is featured on our latest CD. Our photo shows Richard and Will at band practice on Will's ninth birthday. What a small world!!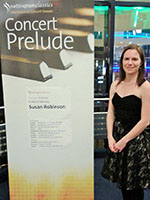 Susan at the Royal
March 1, 2016
Susan Robinson is not only a fine cornet player, but also a talented pianist. She was invited to perform as the "pre-concert pianist" at Nottingham's Royal Concert Hall ahead of the Philharmonia Orchestra concert on 5 February. Susan entertained for 45 minutes before the concert and ten minutes at the interval. Her programme included memorable classical music by Bach, Chopin, Brahms, Schumann, Debussy and Grieg plus more modern pieces like Erroll Garner's Misty and Forgotten Dreams by Leroy Anderson. On the previous Sunday Susan gave a preview in the band room for band members, patrons and friends who thoroughly enjoyed the performance.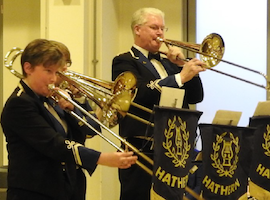 Newsletter Winter 2016
Feb. 17, 2016
Our winter newsletter is now available: click here