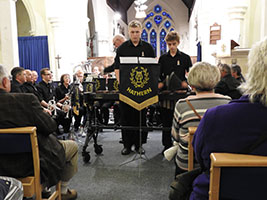 Brass & Voice
May 23, 2016
Concert with Hathern Band and Loughborough Male Voice Choir 21st May 2016.
A joint concert featuring Hathern Band and Loughborough Male Voice Choir was held at Hathern Parish Church on 21st May. The Band began the concert with the Post Horn Gallop. Although this is one of the Band's standard numbers, it has particular significance this year as it is the anthem for Leicester City FC. Mike Wood, the Band's principal cornet, played the post horn which was much appreciated as Mike is from Manchester and a United supporter! Appropriately the Band waved blue and white Foxes flags at the end of the number.
The Band played a mix of old and new demonstrating the diversity of modern brass band music. George and Ira Gershwin's I Got Rhythm was followed by David Bowie's Life on Mars. Old and new came together in Pop Looks Bach, better known as the Ski Sunday theme. Although Hoagy Carmichael's Stardust has been recorded over 1500 times, the arrangement for brass brings a certain poignancy to the tune, ably demonstrated by soloist Simon Baum on trombone. Hathern Band has a children's Training Band and a Youth Band allowing youngsters to learn and develop their musical skills. Several young people have recently broken through into the main Band and two of these are percussionists, George Baum and Edward Hefferman. They produced a lively rendition of a xylophone duet, The Two Imps.
Loughborough Male Voice Choir followed on from the band in each half accompanied by Becky Norton on piano. Musical Director Chris Hill told the audience that the Choir would be celebrating its 50th anniversary next year when there would be a programme of celebratory events including a visit to Belgium. The Choir was in great voice and treated the audience to a varied programme. As with the Band, the Choir mixed old and new. The "old" included the Serenade from the The Fair Maid of Perth by Bizet, Holst's Thaxted from The Planets with the lyrics World in Union and A Roman War Song from Rienzi by Wagner. It was quite a contrast then to hear the Choir sing the Turtles' 1967 hit Happy Together. When I Survey the Wondrous Cross featured music coach Lyndon Gardner as soloist, and the Choir gave a moving rendition of the classic Welsh song Myfanwy.
At the end of each half the Band and the Choir came together. Speed Your Journey by Verdi brought the first half to an end and the concert concluded with What Would I Do Without My Music. This was particularly apt as the brass band arrangement is by Hathern's own tenor horn player Sam Garton. Sam heard the song performed by the Choir which inspired her to set it for a brass band. A fitting end to a most enjoyable concert.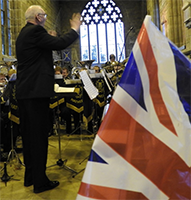 Newsletter Spring 2016
May 12, 2016
Our spring newsletter is now available: click here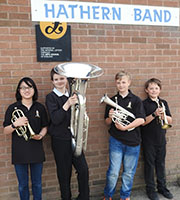 Youth Band Quartet
April 24, 2016
Hathern Youth Band Quartet who claimed the 3rd Prize in the Hymn Tune section at the Leicestershire Brass Band Association Solo, Duet and Quartet Contest held at Groby College.
Pictured from the left – Amadeo Tristanto (cornet) Sam Edwards (Eb Bass) Jack Browne (Tenor Horn) and Oliver Simpson (cornet)
WELL DONE!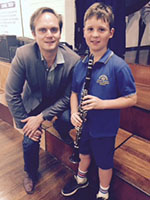 Richard & Will
April 1, 2016
Hathern Band Down Under!
Band Patrons Joy and Barrie Atkinson recently visited their son and his family in Sydney. One evening they went to see their grandson Will, who plays clarinet, in concert and found that Richard Sandham was conducting. Richard learnt to play with Hathern Band, played with the Central Band of the RAF and now works as a Program Manager and Conductor for Directions in Music – a music education service, which provides Sydney schools with band programs and instrumental tuition. Richard composed the piece Pasture Lane for us which is featured on our latest CD. Our photo shows Richard and Will at band practice on Will's ninth birthday. What a small world!!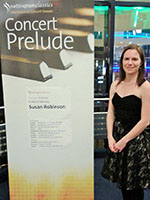 Susan at the Royal
March 1, 2016
Susan Robinson is not only a fine cornet player, but also a talented pianist. She was invited to perform as the "pre-concert pianist" at Nottingham's Royal Concert Hall ahead of the Philharmonia Orchestra concert on 5 February. Susan entertained for 45 minutes before the concert and ten minutes at the interval. Her programme included memorable classical music by Bach, Chopin, Brahms, Schumann, Debussy and Grieg plus more modern pieces like Erroll Garner's Misty and Forgotten Dreams by Leroy Anderson. On the previous Sunday Susan gave a preview in the band room for band members, patrons and friends who thoroughly enjoyed the performance.