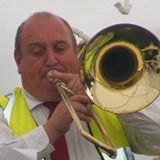 Dave Tilling
May 11, 2014
In memory of Dave Tilling –
Dave passed away on Sunday 11th May after a short illness and leaves the family he loved, his wife, Jermaine, his daughter, Annie and his son, George.
Dave was a gentle giant of a man and a more helpful person you couldn't wish to meet. He was an enthusiastic supporter and promoter of Hathern Concert Brass as well as its stalwart Bass Trombone player for nearly 10 years.
The manner and speed of his passing has shocked us all. It certainly won't be the same band without him. Rest in peace Dave, we`ll all miss you very much.
With our love – The Hathern Band Organisation
Groby Solo Contest
April 6, 2014
Not such a big entry for the Solo/Quartet/Duet Contest at Groby College on Sunday 6th April but well done to all those who did attend
3rd Prize – 14 years and under Hymn Tune Quartet – George Baum, Stephen Guerin, Olivia Needham and Alastair Smith
2nd Prize – Edward Hefferman in the Percussion section
3rd Prize – Freddie Buchanan in the 14 years and under Slow Melody & 4th Air Varie
A very well done to all those playing solo`s George Baum, Stephen Guerin, Alastair Smith and Rebecca Miller – perhaps we can get more to join you at the next contest in October!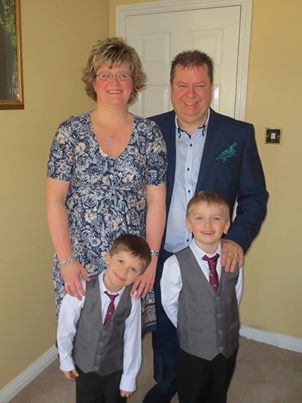 Marriage Blessing
Feb. 22, 2014
What a lovely day! – congratulations to Andrea & Colin and of course not forgetting Christopher and Sammy. xx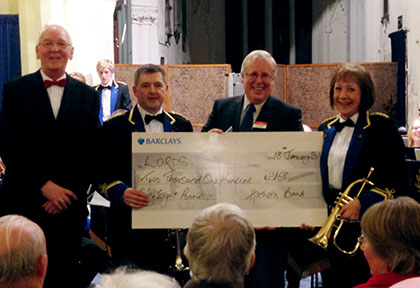 LOROS CONCERT
Jan. 18, 2014
Arriving at Hathern Parish Church to find a queue of people boded well for the Charity Concert being held there in aid of the LOROS Hospice, given by Hathern Senior Band and indeed there was a capacity audience.
The Band were certainly on top form for their first concert of 2014 and together with Musical Director David Newman, treated the audience to a lively programme in a variety of musical styles, which emphatically demonstrated that brass bands don't just play marches. The concert was something of a worldwide tour; we were taken on a trip to America which had us Breezin' Down Broadway and our toes were set tapping with a fast paced rendition of Do-Re-Mi from the Sound of Music, set in Salzburg, Austria. Next it was off to Vienna for a great version of the Fire Bell Polka by Josef Strauss, complete with a 'fire bell' expertly struck by Rebecca Simms, rather different from playing her usual instrument, the tuba. We then called in at Berlin to hear the well known number Mack the Knife from the Threepenny Opera, which had its premiere in the city.
The solos featured during the evening changed the pace and mood; euphonium player Graham Rix expertly played Lament, a beautiful tune by Carl Jenkins; there was a very smooth version of the George Gershwin number Embraceable You by trombonist Simon Baum and flugel horn player Lesley Bentley gave a powerful rendition of the lovely ballad Right Here Waiting.
The concert was a huge success and raised £2,158.00 for the Leicestershire Hospice, including a donation of £750.00 from Barclays Bank under their match funding scheme. Annually, around 2,500 people benefit from the care provided by LOROS, either in the Hospice or in the Community and to carry on with this work, £4.5 million has to be raised each year. The cheque was accepted by Adrian Walker of LOROS who thanked everyone for achieving such a splendid amount and he was pleased to confirm that 90p of every pound raised would go towards patient care.
To conclude a great evening's entertainment for a great cause we ended our whistle stop tour in Paris with a wonderfully fast and furious version of the Can Can. Indeed, it was a superb evening of marvellous music and David Newman's amusing anecdotes and introductions to the numbers certainly added to the entertainment.
On behalf of Hathern Band, David Newman thanked Barclays for their on-going support of this concert, which has now raised nearly £28,000.00 for LOROS since the first one in 2002. He also thanked everyone involved with the concert, particularly church members John & Rosemary Worsfold for their help and also the audience, as without such support it would not have been possible to raise over £2,000.00 for the Leicestershire & Rutland Hospice.
Louise Haworth – Publicity Officer
Louise Haworth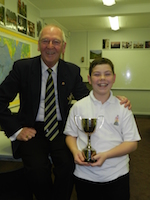 CHRISTMAS CONCERT
Dec. 14, 2013
There was plenty of seasonal songs and festive fun at Hathern Band's Christmas Concert, which attracted a capacity and appreciative audience to the Hodson Hall, Loughborough. Hathern's Senior Band and Musical Director David Newman entertained throughout the first half and included marvellous renditions of The Wonder of Christmas, Jingle All The Way, The Carol of the Drum and The 12 Days of Christmas, which was supported by some fine singing by the audience.
However, it was the Training Band also under the baton of David Newman who received the loudest applause of the night with their brilliant performances of Ding Dong Merrily on High/First Noel and Winter Wonderland. Several of the youngsters had only been playing a few weeks but it was clear they had been practising very hard and the whole band certainly looked like they were enjoying the occasion with many wearing festive decorations. It was a particularly memorable night for Alastair Smith as he was presented with the Tom Dennis Memorial Cup for being the Most Improved Learner in the Training Band, which was no mean achievement with over 30 players in contention. It was also Alastair's final appearance before his progression to the Youth Band/Concert Brass (the picture shows Alastair receiving his award from David Newman).
Hathern Concert Brass, which also included members of the Youth Band then took over the stage and gave splendid performances of Troika, Let it Snow and Candlelight Carol featuring the Band's new principal cornet player, Sarah Moore. All the numbers demonstrated the Band's excellent playing ability and enthusiasm, together with that of their Musical Director Andrea Allen. Throughout the evening there was plenty of excellent carol singing by the audience and Concert Brass provided the accompaniment to The First Noel. A big thank you once again to John Weizel for the use of the Hodson Hall at Loughborough Grammar School, who always make the Band so welcome.
Before the finale, David Newman announced that the Senior Band's first event in the New Year would be a Charity Concert in aid of the LOROS Hospice. The concert is supported by the Barclays Bank '£ for £ Scheme' and takes place on Saturday 18 January 2014 in Hathern Parish Church, with all proceeds going to the Leicestershire Hospice. Tickets priced at £6.00 are available now from Band Secretary, Lesley Bentley on 01509 672029 or email, lesley.bentley@dsl.pipex.com.
All good things must come to an end as the Senior Band performed the hugely popular Snow Waltz, which saw audience and musicians alike swaying along with the music and the final number was the well known and much loved, White Christmas. The whole evening was full of great Christmas music and seasonal cheer, which certainly sent everyone home with a festive spring in their step.