Hathern Band - WI Concert
Sept. 18, 2015
The Band gave a concert at Charnwood College for the WI to celebrate their 100 years. A very entertaining evening with a very appreciative audience. Simon Baum, Graham Rix and Joe Southgate showed their skill playing in their solo items and the band amused the audience with their first half finishing piece of Haydn`s Farewell Symphony (leaving only Mike Wood & Susan Robinson on the stage!) and returned to start the second with the players gradually walking onto the stage playing Show me the Way to go Home. A vote of thanks for a wonderful evening from Janet Kirk the Chairman of the Leicestershire WI was given.
Summer with the Concert Brass
Sept. 6, 2015
The Concert Brass played to a large audience at the annual Horticultural Show at the 3 Crowns in Hathern on Sunday 30th August. The rain eventually stopped play! but not before the band had entertained with their playing and amused the audience with ways of keeping dry!
The weather was just the opposite on their visit to Sutton Bonington Show on Sunday 6th September this time having to shelter under a gazebo to keep out of the sun. A very entertaining programme given by the band with Andrea's YMCA dance being the highlight!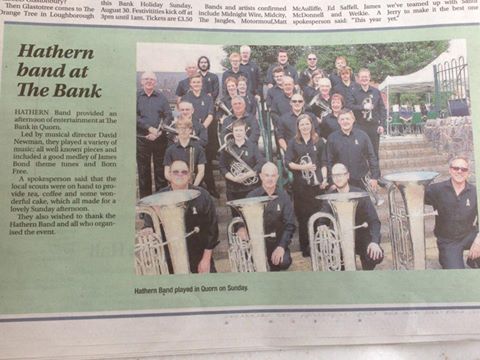 Hathern Band Concert in Quorn
Aug. 16, 2015
Hathern Band – Concert on The Banks in Quorn on the 16th August – picture in the Echo!
Friends of Hathern Band
Aug. 11, 2015
Friends of Hathern Band
We already have Patrons of Hathern Band. Patrons donate at least £25 per year. However we have decided to also have a Friends organisation for supporters to keep in touch with the band organisation and become a part of the banding family. There is no cost in being a Friend and you will receive notification by email (preferred) or mail of forthcoming events and concerts for both Hathern Band and Concert Brass. Also you will receive the quarterly newsletter with news, information, profiles of players etc. Existing patrons will automatically receive the newsletter.
Why not sign up? Please contact secretary Lesley Bentley at lesley.bentley@dsl.pipex.com.
Your email address will not be passed on to any other organisation.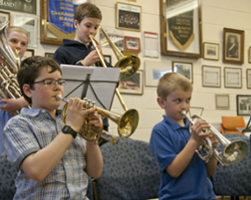 Summer Newsletter
Aug. 1, 2015
Our autumn newsletter is now available: click here