Youth Band, Concert Brass & Training Band Awards 2014
Dec. 28, 2014
Congratulations to the players receiving awards in December 2014 –
The Echo Shield to the Youth Bandsman of the year – Edward Hefferman
The Albert Caleb Kelham Trophy – The Concert Brass Conductors Awards – Colin Allen
The Tom Dennis Trophy for the Most Improved Learner – Robert Fairlamb
For the first time a new trophy The Harry Smith Memorial Trophy to be presented annually by our President and Musical Director David Newman for outstanding service to a Youth player, this was awarded to – Thomas York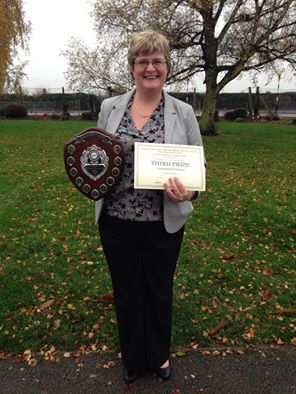 LBBA Contest
Nov. 23, 2014
Congratulations to Andrea and the Concert Brass on their 3rd place in the Unregistered Section at the LBBA Contest yesterday. Brilliant result, well done to all.
(The picture shows Andrea holding the Shield, I would say she looks HAPPY!)
The Senior Band later in the day played in the Championship Section and came 6th on their own choice of Year of the Dragon by Philip Sparke – well done to the band and particularly to Dave for all his hard work.
NEW CD - PASTURE LANE
Oct. 13, 2014
Our new CD was released on Friday night at the Concert we gave at Charnwood College in Loughborough and we had customers queuing out of the door to buy a copy! details are on the recording section of our website.
If you are thinking of Christmas Presents – the new CD is called Pasture Lane and they are £10 each.
Local deliveries can be made or if you are in Hathern our Band Chairman John Worsfold has copies, or I can post out.
Groby Solo/Quartet/Duet Contest
Sept. 28, 2014
Groby Solo Contest
28th September 2014
Not such a big entry for the Solo/Quartet/Duet Contest at Groby College but well done to all those who did attend
1st Prize – Edward Hefferman in the Percussion section
2nd Prize – Stephen Guerin in the sight reading
A very well done to the Hymn Tune Quartet – Ben Grace, Amadea Tristanto, Rian Grindley & Rebecca Miller and to those who played solos – Stephen and Amadea
Senior Band Annual Awards
Sept. 7, 2014
The Hathern Band once again showed their appreciation to the Patrons of the Band for there continued support by entertaining them at the annual Patrons Evening. This event was again held at Hathern Community Centre and the Patrons were treated to varied music, food and drink along with David Newman's joke repertoire!
The annual awards for the Senior Band were also made on the evening and many congratulations to – Simon Baum who received the Players Player Award (this is the Joanne Wood memorial trophy and voted for by the players) and Lesley Bentley who received The Bandsman of the Year (The Joan Crayfourd Memorial Trophy) from David Newman.