NEW CD - PASTURE LANE
Oct. 13, 2014
Our new CD was released on Friday night at the Concert we gave at Charnwood College in Loughborough and we had customers queuing out of the door to buy a copy! details are on the recording section of our website.
If you are thinking of Christmas Presents – the new CD is called Pasture Lane and they are £10 each.
Local deliveries can be made or if you are in Hathern our Band Chairman John Worsfold has copies, or I can post out.
Groby Solo/Quartet/Duet Contest
Sept. 28, 2014
Groby Solo Contest
28th September 2014
Not such a big entry for the Solo/Quartet/Duet Contest at Groby College but well done to all those who did attend
1st Prize – Edward Hefferman in the Percussion section
2nd Prize – Stephen Guerin in the sight reading
A very well done to the Hymn Tune Quartet – Ben Grace, Amadea Tristanto, Rian Grindley & Rebecca Miller and to those who played solos – Stephen and Amadea
Senior Band Annual Awards
Sept. 7, 2014
The Hathern Band once again showed their appreciation to the Patrons of the Band for there continued support by entertaining them at the annual Patrons Evening. This event was again held at Hathern Community Centre and the Patrons were treated to varied music, food and drink along with David Newman's joke repertoire!
The annual awards for the Senior Band were also made on the evening and many congratulations to – Simon Baum who received the Players Player Award (this is the Joanne Wood memorial trophy and voted for by the players) and Lesley Bentley who received The Bandsman of the Year (The Joan Crayfourd Memorial Trophy) from David Newman.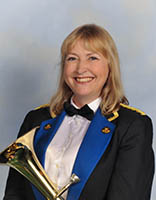 Rachael Baum
Aug. 6, 2014
Rachael Baum – Hathern Band
It is with great sadness that we have to announce the death of our Solo Horn player, Rachael Baum who died in the LOROS Hospice in Leicester on Friday 25th July.
Rachael was not only an outstanding tenor horn player but a true bandswoman. Having been taught by the late Bud Fisher, Rachael was a member of the Loughborough Band who won the Midlands Youth Championships on 6 consecutive occasions, and the National title.
Rachael has ensured a lasting musical legacy as her husband Simon is Principal Trombone with the Band and her middle son Jake is part of the percussion team, her younger son George plays euphonium in the Hathern Youth Band.
Our love and thoughts are with Simon and their sons, Harry, Jake and George, at this very sad time.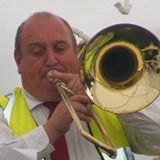 Dave Tilling
May 11, 2014
In memory of Dave Tilling –
Dave passed away on Sunday 11th May after a short illness and leaves the family he loved, his wife, Jermaine, his daughter, Annie and his son, George.
Dave was a gentle giant of a man and a more helpful person you couldn't wish to meet. He was an enthusiastic supporter and promoter of Hathern Concert Brass as well as its stalwart Bass Trombone player for nearly 10 years.
The manner and speed of his passing has shocked us all. It certainly won't be the same band without him. Rest in peace Dave, we`ll all miss you very much.
With our love – The Hathern Band Organisation