News update September 2012
Sept. 18, 2012
Hathern Band have had a busy summer with concerts at Grace Dieu Manor Prep School, The Banks at Quorn and a Proms Concert at the Civic Centre in Braunstone, Leicester. Their visit to play at Birstall Gala and Proms Concert was cancelled for the second year due to bad weather, sun has been booked for June 30th 2013, so put the date in your diaries.
Concert Brass have given two performances at Parks in Leicester, a visit to Whatton Hall Gardens and their usual visits to play at Hathern Garden Fete and Sutton Bonington Show. It was the Concert Brass this year who also entertained the visitors at the Horticultural Show at the 3 Crowns in Hathern on Bank Holiday Sunday.
The bi-annual visit of the Hathern Training Band to play at the morning service in Hathern Church took place in September. This is one of the three annual public appearances by the Training Band and gives them a chance to learn performance discipline – a lot different to the rehearsal culture! There were a lot of senior band members in supporting roles to help the youngsters. The congregation always look forward to their playing and September was no exception.
The Musical Director, David Newman, invites anyone who has not seen a rehearsal of the Training Band to come and visit us, on Monday evenings, 6:00 to 7:00pm. You'll be most welcome. The enthusiasm of youth is evident: they can also see a clear path ahead to move to the Youth Band, Concert Brass and then the Senior Band. Come on Monday and see how a tennis ball can be a vital part of learning rhythms!
The Youth Band also plays on a Monday evening, from 7:15 to 8:45pm. This is the stepping stone between the Training Band and Concert Brass, it seems a strange concept to some. It's a Band that never performs publicly and puts a piece of music away as soon as the musicians can play it. But this is missing the point, which is to cram as many musical ideas and musical theory into young minds, in the shortest time possible. Also learning scales is a must, but not necessarily popular! Do visit us on a Monday night.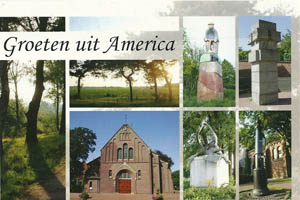 A NOTE FROM AMERICA!
Sept. 11, 2012
We have had a lovely message and card from Marian, so please make sure you all look at the notice board in the Bandroom – BOTH BANDS
She misses everyone, but not the English weather!!
See you soon Marian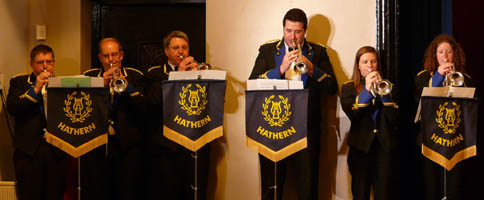 Goodbye Marian, Kom snel terug!
July 11, 2012
After 6 months with the Band Marian is returning to the Netherlands. It has been lovely having her in the Band and we hope she comes back soon. I am sure we will keep in touch and who knows, we might be able to arrange a Band trip to America! x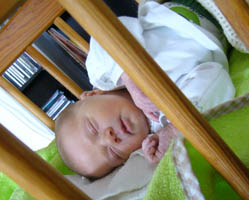 Croc's Baby!
July 1, 2012
Congratualtions to Christina and Mark on the birth of Amanda Barbara, she looks lovely, not sure she looks like a trombone player..
Mother, Baby and FATHER! (Dr Mark Terner to give him his full name) all doing well xx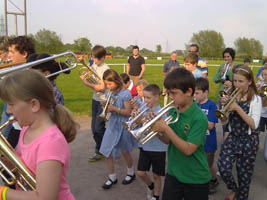 May news
May 31, 2012
With the Jubilee and Bank Holidays not too much to report as players have been celebrating with family and friends, but a busy summer ahead for both the Hathern Band and the Concert Brass!
The Senior Band gave a Concert in Emmanuel Church for the Loughborough Lions who were raising money for local charities. A brilliant concert much appreciated by a large audience and finishing with singing and flags waving as the Band played Pomp & Circumstance. Despite still being in plaster after a serious operation on his legs in December, one of our young very promising cornet players, 10 year old Freddie Buchanan, made it to the concert to play. Also making his debut, another young cornet player from our Youth Band, Dru Sparks.
A reminder that if you have a youngster who would like to play a brass or percussion instrument, please contact our Secretary. Instrument, music and tuition are provided free of charge to young people wishing to learn to play. Absolute beginners start with one-to-one tuition, then progress through to the Training Band. The band is directed by David Newman with players from the main Hathern Band assisting with tuition and they meet at the Bandroom on Pasture Lane in Hathern every Monday evening from 6 – 7 p.m.. Parents are welcome to accompany their children.
Its never too early to learn to march! the picture shows the Training Band having marching practice on one of the few sunny Monday evenings we have had.