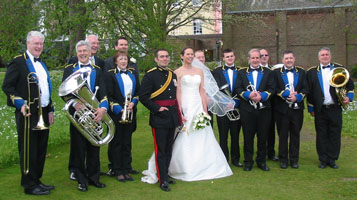 Doctor Katherine Williams
April 15, 2012
Some of the Band yesterday travelled to Cambridge to play at the wedding of one of our 'old players' Katy Williams. Katy and her brother Tim both learnt to play with Hathern Band and it was great to go and meet up with them again. Katy is a Captain in the Army and is just completing her GP training and she married Major Robin McCallum.
The picture shows the Band (who had to be persuaded to put down their glasses of champagne! so there will be another more organised photo at some point) with Katy, Robin & Tim outside the Chapel at Sidney Sussex College at Cambridge University where Katy was a student.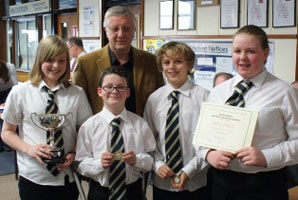 News update April 2012
April 12, 2012
The Senior Bands first concert of the Spring was held on Saturday 31st March at St Andrews Church, Kegworth this was a Proms Concert, the 4th consecutive we have played to this large and appreciative audience.
We took a number of the Bands young players the following day to Leicestershire Brass Band Associations Solo, Duet and Quartet Contest and against opposition from all around the Country Edward Brown took 1st Prize in the Percussion Section and 10 year old Freddie took Buchanan 1st Prize in the Slow Melody for his age group and 1st Prize in the 18years and under Air Varie. In addition 4 of the young players, conducted by Lesley Bentley, took 1st Prize in the 14 years and under quartets. (the photo shows Emily, Freddie, Stephen & Katie receiving the 1st Prize in the Quartets from Adjudicator Dave Lea).
After a short break all the Bands are now back to post Easter rehearsals.
One of the Bands long standing supporters and Patrons sadly died recently. Joyce McIntosh was always there to lend a hand with raffle prizes or entertaining in her home, cold bandsmen on the annual carols around the streets. A lovely lady, she will be sadly missed.
Mrs Margaret Atkin
April 11, 2012
I am very sorry to have to inform you all that Margaret died in her sleep on Wednesday evening. As many of you know Margaret had terminal cancer and had refused any treatment, but with pain killing drugs she had a peaceful end.
Margaret and Roy (for those of you who don`t know Roy played in the Band for many years) were Hathern Band! and were the main stay of the Band for many, many years. We will all miss Margaret keeping us in order at band practices! Margaret`s funeral will be at St Botolph`s Church in Shepshed at 12 noon on Tuesday 24th April. I am sure many of you will want to pay your respects
News update March 2012
March 16, 2012
Saturday 10th March saw the Senior Band compete in the 1st Section of the Midland Regional Brass Band Championships in Bedworth, Warwickshire. The music was `Mountain Views` by Swiss composer Bertrand Moren. Drawn to play 15th out of the 18 competing Bands, we were awarded 4th place, one short of sending the Band to successive National Finals. However, a pleasing performance and place, which leaves us 3rd overall in the League Table.
During the preparations for the contest, the Band had a visit from Russell Gray, the conductor of Desford Colliery Band, the premier Band in the Midlands. Russell invited us to take our Youth band to one of their rehearsals, which we gratefully accepted. So the Monday prior to the contest we crowded into Desfords Band room to hear their preparations for the Championship Section. To say the young players had an eye opening experience, would be putting it mildly. They were mesmerised by the playing and hopefully inspired to copy it. Needless to say Desford Colliery Band won the Championships in impressive style.
News update February 2012
Feb. 9, 2012
This time of year is traditionally a quiet period for Bands, at least for Bands appearing in public. The Senior Band are preparing the Midland Area Brass Band Championships of Great Britain to be held in Bedworth, Warwickshire on 10th March. A group from the Senior Band did play in Shepshed last week at the wedding of Tom Hill and Kelly Taylor, who's family have been associated with the Band for many years.
Concert Brass are preparing new music for this years programme and the Training Band will also be facing new challenges following their appearance on 5th February at the Family Service in Hathern Church.
One Band that hasn't been mentioned is the Youth Band. The Youth Band does not appear in public, all the players being members of one of the other Bands in the organisation. The sole purpose of the Youth Band is to improve all aspects of Band training, equipping them more readily for Concert Brass/Senior Band. Where as our other Bands practice a piece of music with a view to performing in public, as soon as a piece of music has reached that standard with Youth band it is immediately replaced with something else, the idea being to present fresh challenges to the young players on a weekly basis.
The Senior Band will, as always, have an open rehearsal at Hathern Church on Tuesday 6th March at 7.45, prior to the Area Contest on the following Saturday. Everyone is invited to come and listen to the Band rehearsing Mountain Views composed by Bertrand Moren.