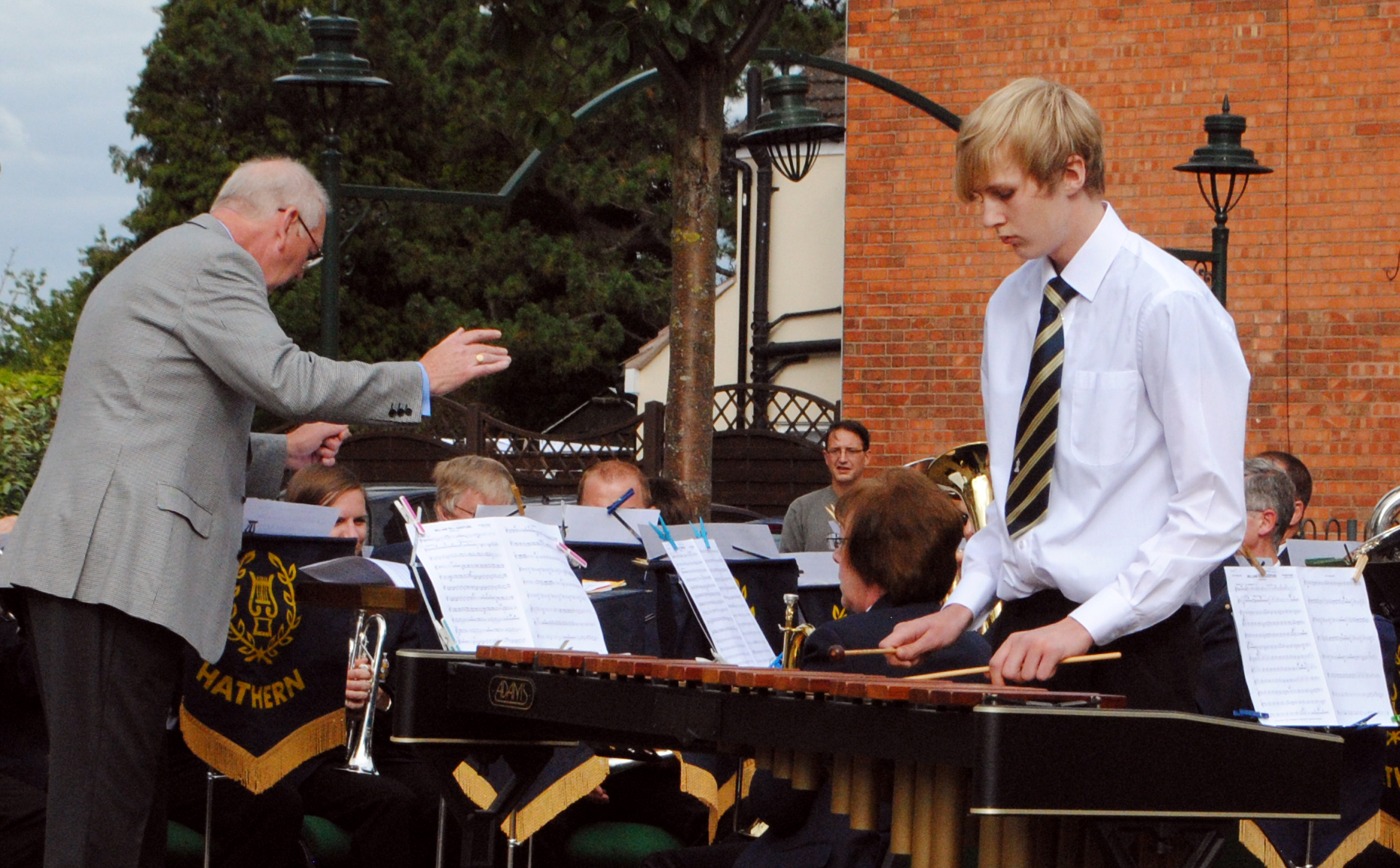 Hathern Band on Quorn Banks
Aug. 14, 2011
Quorn's BAND ON THE BANKS was again a huge success on August 14th when the famous Hathern Band under its Musical Director, David Newman, treated the audience to a wonderful performance of their music. The occasion was made even more special with four of its gifted musicians being Quorn residents. Several impressive solos were performed during the afternoon and the last being a sparkling and prize winning performance of William Tell by one of the Quorn residents, Jake Baum, on Xylophone (see picture).
The weather was again kind to us and as well as Hathern Band our grateful thanks go to members of Quorn Cricket Club for their teas and generous portions of excellent home made cake. Thanks also for the use of the Church Room facilities and to the members of the public for again supporting this Parish Council sponsored even. Also thanks to those who helped with the clearing up afterwards. This is now becoming a regular event and we look foreword to next years event on August 19th when Hathern Band will again treat us.
Look out for details of this years Carol Concert in Quorn Village Hall when Hathen Band will perform Carols accompanied by the audience and generous Christmas Cheer!
David Cawdell – Quorn Parish Council
News update August 2011
Aug. 5, 2011
On the 26th June, you may remember one of the hottest days for some time, the Senior Band gave a Proms in the Park performance at the Birstall Gala. We have been flooded out in the past but on this occasion due to the scorching weather a huge crowd of around 3000 were there waiting for us. The programme featured many of the Bands fine soloists and concluded with Jerusalem, Fantasy on British Sea Songs and Pomp and Circumstance. This year were were again joined by Soprano Miss Jenny Saunders who as always was on scintillating form as she sang Gershwin's Someone to Watch over me and Bernstein's I feel pretty from West Side Story.
The Concert Brass performed at Kegworth Carnival, again in very hot weather, this is a return visit for the Concert Band who played last year at the same event.
Senior Band, Youth Band and Training Band are now on holiday for 3 weeks, although Concert Brass will continue. For the Senior Band this comes in the middle of preparations for the National Finals.
Finally if we could mention that the Band were presented with a lovely clock and commemorative plaque in memory of Michael Spencer a long time supporter and helper of the Band. A big thank you to Maureen and the Spencer family from the Band.
Hathern Band - National Finals
June 8, 2011
The National Finals Testpiece has been announced – The 1st Section will be
Verdi's 'La Forza Del Destino'.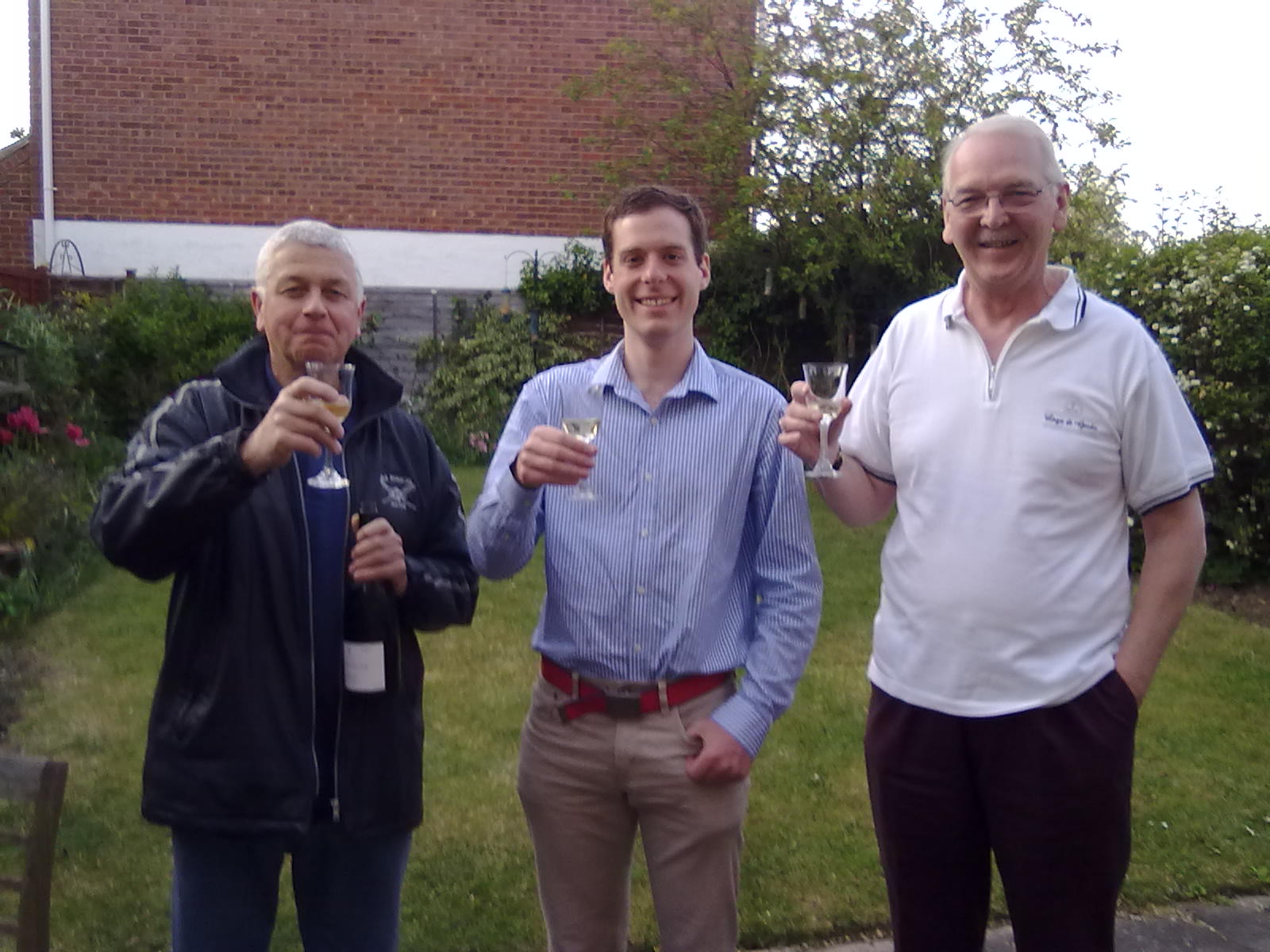 Doctor Antony Edwards
June 2, 2011
Antony (Doctor Antony!) congratulations from us all at Hathern Band – no more exams!!
Concert Brass
May 20, 2011
Many people are of the opinion that brass bands only play marches; however, this is definitely a misconception as far as Hathern Concert Brass is concerned. The Band was in fine form at their concert on 20.05.11 in St Mary's RC Church, Loughborough, which was held to raise funds for the recent re-decoration works. Under the baton of Musical Director Andrea Allen, Hathern Concert Brass presented a lively programme in variety of musical styles.
Compositions by Andrew Lloyd-Webber were well represented and included No Matter What from Whistle Down The Wind, which featured the expert playing of Steve Matthews on cornet. Steve's playing was also prominent in Old Gumbie Cat from the popular musical, Cats and was complemented by the smooth and melodious tones of Dean Onyon on euphonium.
The evening saw the Band's premiere performance of the Beatles hit Ticket to Ride, which certainly evoked memories of the days of steam, or perhaps a visit to the Great Central Railway and it was definitely a journey enjoyed by the audience.
Amongst other numbers in the programme were Those Magnificent Men in their Flying Machines; Cruella de Vil from the Disney film, 101 Dalmatians and the Robbie Williams hit, Angels, which included some fine playing by Chris Mulvaney on flugel horn. The brass band traditionalists were not forgotten however, with performances of the toe tapping marches, Kenilworth and Star Lake.
It was a most enjoyable evening and Andrea's amusing anecdotes and introductions to the numbers certainly added to the entertainment. The audience also needed little encouragement to join in the fun during YMCA and Amarillo, and were sent home with a spring in their step after the Band's stylish rendition of the popular Michael Bublé song, Sway, which featured plenty of Latin rhythm from Vicky Jones on cornet.
Concert Brass was established three years ago to develop young players in readiness for progression to the Main Hathern Band, by giving them the opportunity of playing a wide variety of music and gaining performance experience. It is also an ideal forum for people not wanting the pressure of competitions that goes with being a player in the main band. Concert Brass has grown steadily and there are currently over 30 members, ranging in age from 8 to 70 but new players are always welcomed.