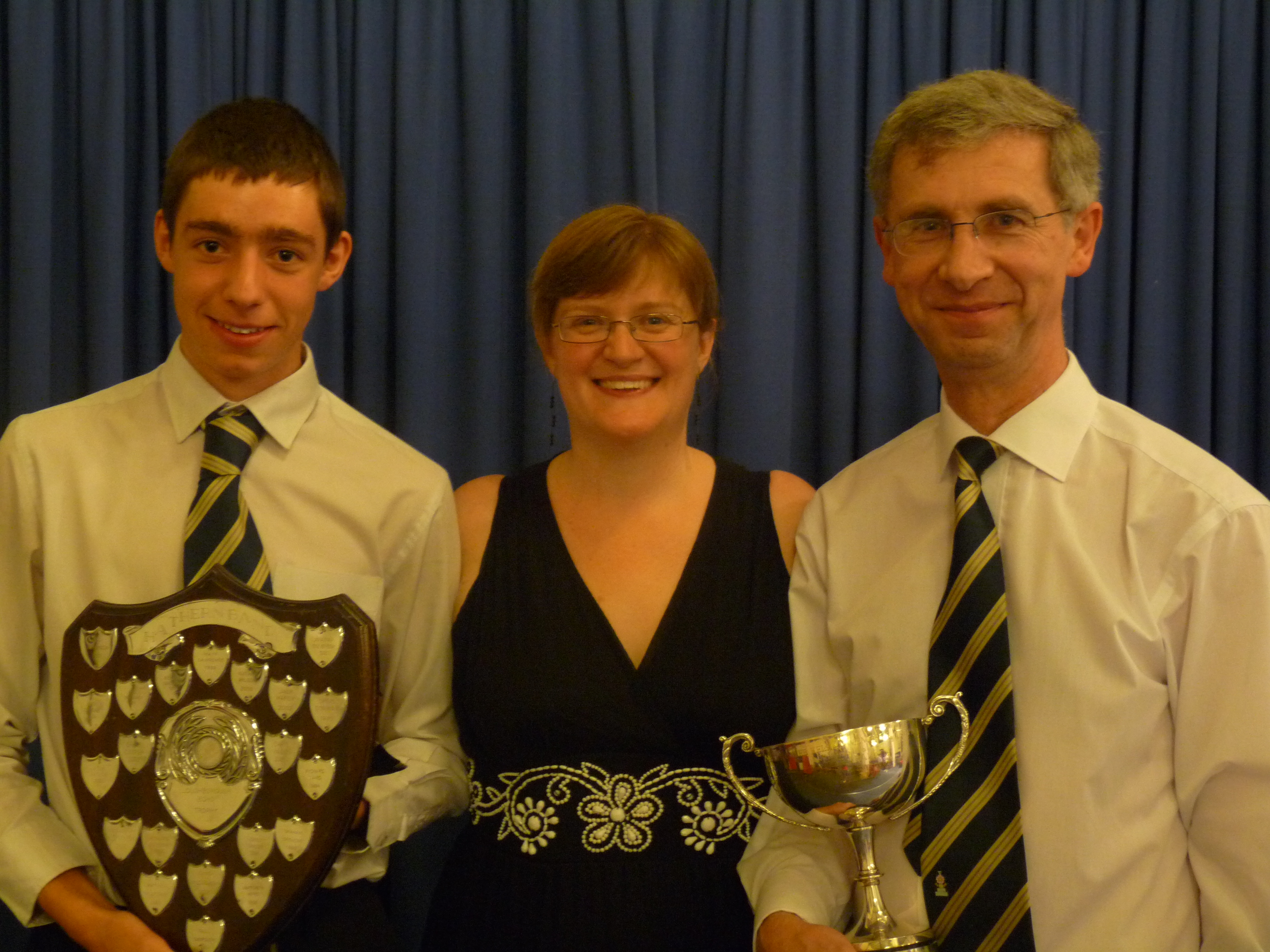 Concert Brass
Oct. 1, 2011
Hathern Concert Brass were performing on home territory recently when they presented their annual concert in the Village. Under the baton of Musical Director Andrea Allen, the Band presented an interesting programme in a variety of musical styles.
The concert set off at a lively pace with Breezin' Down Broadway and Those Magnificent Men in their Flying Machines, which contrasted well with the smooth rendition of Mood Indigo. The Band's performance of the Beatles hit Ticket to Ride certainly evoked memories of the days of steam, it was definitely a journey enjoyed by the audience. Amongst other numbers in the programme were Cruella de Vil from the Disney film, 101 Dalmatians, the Barry Manilow hit, One Voice, and Love Changes Everything which featured some fine playing by Freddie Buchanan on cornet. The brass band traditionalists were not forgotten however, with the inclusion of the toe tapping March, Kenilworth.
During the evening Andrea Allen presented The Conductor's Award to Dean Onyon and Christopher Mulvaney was named as Player of the Year (picture shows Christopher, Andrea & Dean). The final item to end a most enjoyable evening was the popular Michael Bublé song, Sway, which sent the large, appreciative audience home with a spring in their step. A big thank you to Hathern Church for the use of this lovely building.
Hathern Band - NATIONAL FINALS
Sept. 25, 2011
Dear Patrons & friends
You'll be pleased to hear, I'm sure, that, after being one of the winning bands in the Area Contest last February, Hathern Band has just taken part (yesterday) in the National Finals for the First Section. It was held at Cheltenham Race Course (and the price of beer had to be seen to be believed!).
All 18 Bands were to play the same test piece – La Forza del Destino (The Force of Destiny) Verdi arranged F Wright – and the draw for order of play placed Hathern last, not a great place to be playing we thought, although the winning band played 17th. We played well and were placed 12th. As the announcer said, "Don't forget that to even get to the finals means that each band has excelled", so we take pride in being 12th best band out of some 150 bands in the UK who are in the First Section. Congratulations to Musical Director David Newman and all the players for the results of their hard work over the past few months.
This coming Saturday, Concert Brass, under their conductor Andrea Allen, are holding their Annual Concert in Hathern Church. Tickets are £5 (children £2) and are available by phoning Andrew, 01509 265 258, or Jenny, 01509 828 719, or can be bought on the door.
And, of course, we have our Annual Patrons' Concert on the following Saturday, 8th October, at Hathern Community Centre. If you are are Patron of the Band and you haven`t let Lesley know if you will be attending, its not too late!
With best wishes,
John Worsfold
Chairman – The Hathern Band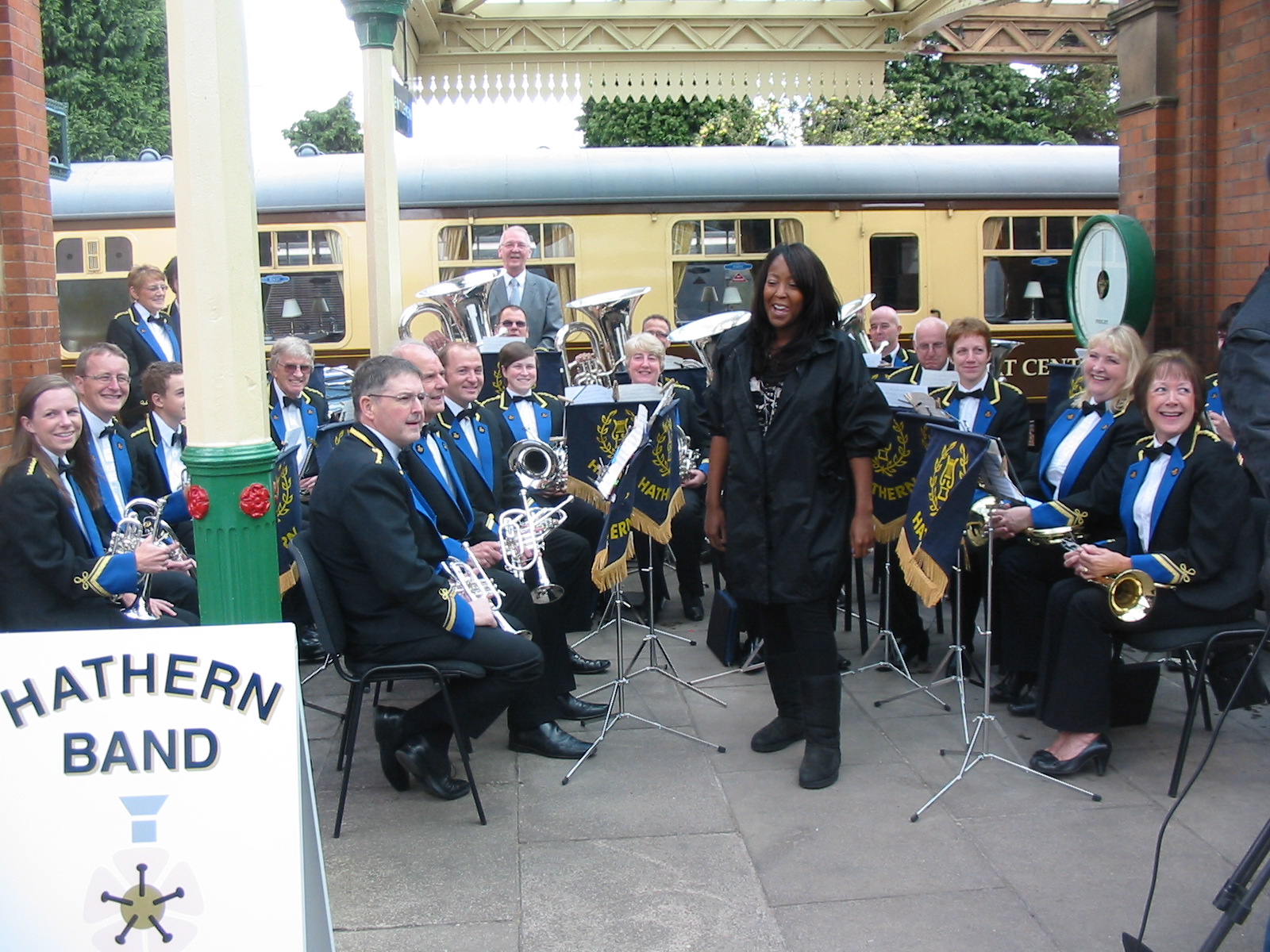 Hathern Band`s moment of fame!
Sept. 17, 2011
Hathern Band were approached by Mark Ashton, who works as a Producer/Director for the One Show. He said they were are planning to do some filming in Leicester and Loughborough on Sat 17th September as part of their "Claim to Fame Series" where they look at a moment in History that brought fame to a village or city or town. The films are 5 minutes long. They were keen to look at the first sortie by Thomas Cook in 1841 when he took his first paying guests on a train from Leicester to Loughborough. On the train there was a brass band, thats where Hathern came in! as they were looking to re – create the atmosphere of the time. The players were keen on their moment of fame! and turned up at 9.30 a.m. at the Great Central Railway in Loughborough to start filming, starting off with a very entertaining journey on the train from Loughborough to Leicester. A great time was had by all – we are waiting to see if we can spot David Newman, our Musical Director on any of the filming!!
The film is due to be broadcasted on the One Show Friday 7th October.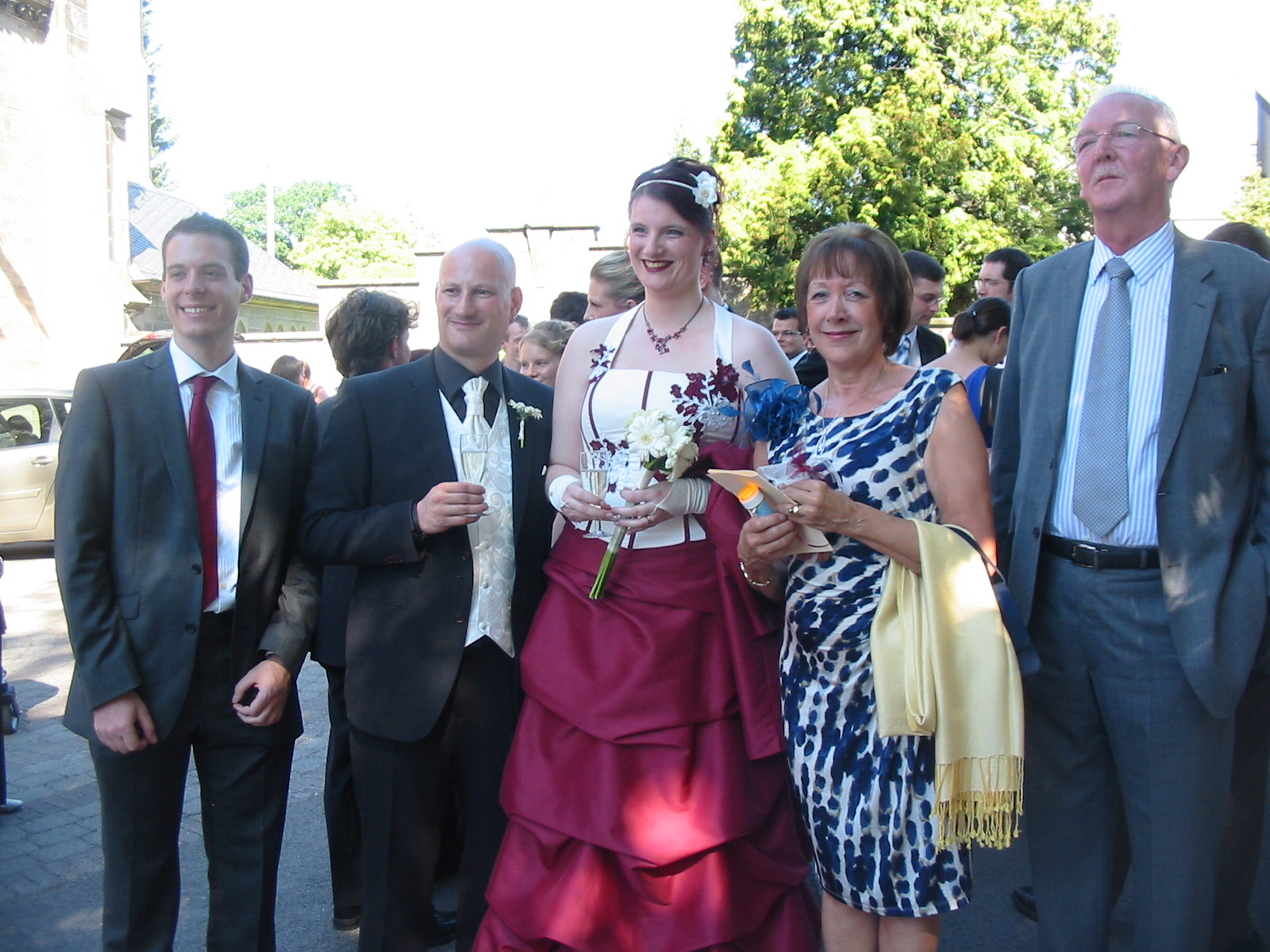 Croc's wedding!
Aug. 20, 2011
Christina finally made a decent man out of 'Croc' (Hathern Bands famous Australian bass trombone player Dr Mark Terner, to give him his full name) over in sunny Germany last weekend. A brilliant time was had by all the travelling 'Hathernites' and a truly international feast involved lots of German wine and pickled platypus! with the Fosters flowing like water. David Newman cut a fine dash in Church sitting on the bridegrooms side wearing his hat with corks! Can`t wait for the next visit.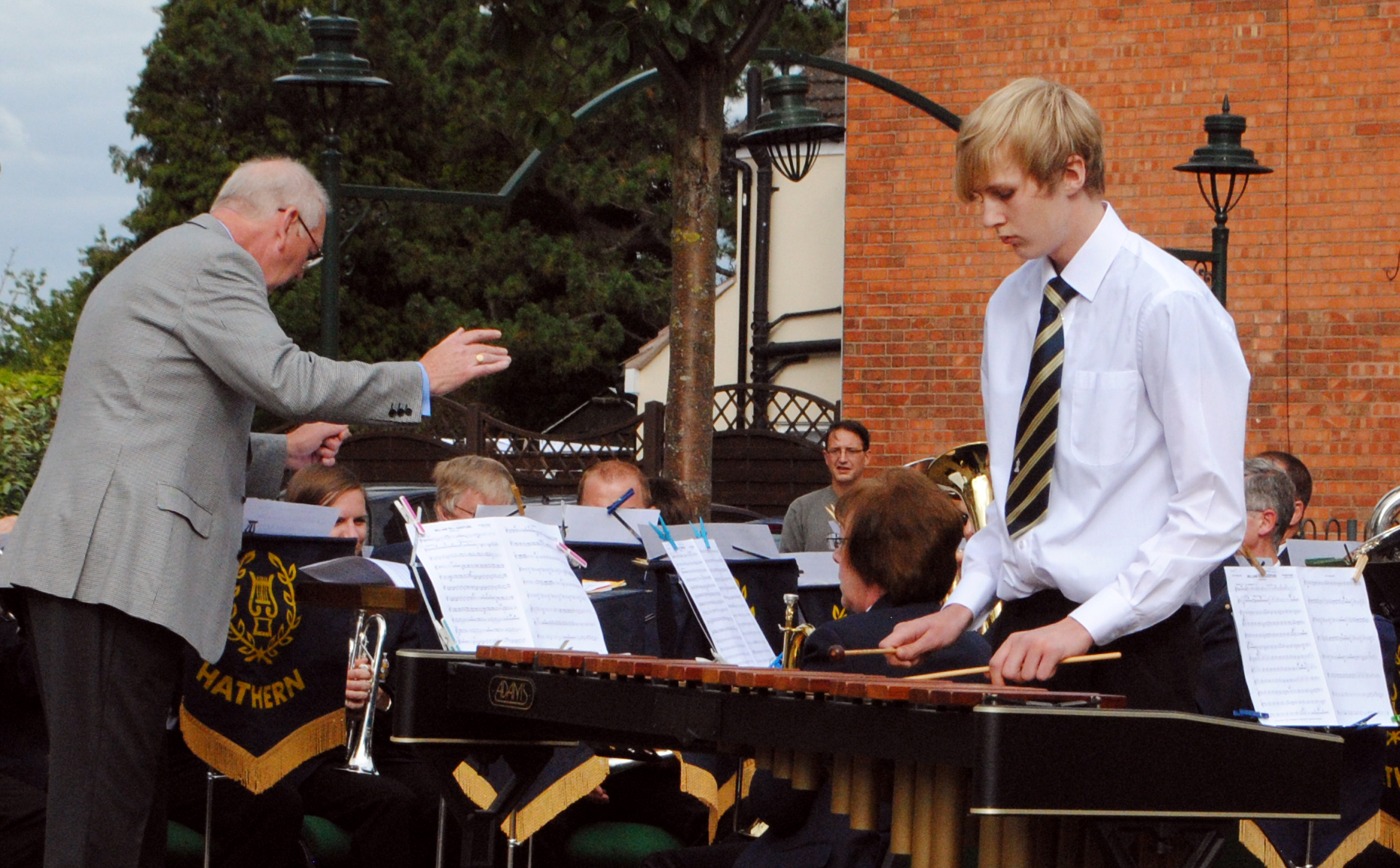 Hathern Band on Quorn Banks
Aug. 14, 2011
Quorn's BAND ON THE BANKS was again a huge success on August 14th when the famous Hathern Band under its Musical Director, David Newman, treated the audience to a wonderful performance of their music. The occasion was made even more special with four of its gifted musicians being Quorn residents. Several impressive solos were performed during the afternoon and the last being a sparkling and prize winning performance of William Tell by one of the Quorn residents, Jake Baum, on Xylophone (see picture).
The weather was again kind to us and as well as Hathern Band our grateful thanks go to members of Quorn Cricket Club for their teas and generous portions of excellent home made cake. Thanks also for the use of the Church Room facilities and to the members of the public for again supporting this Parish Council sponsored even. Also thanks to those who helped with the clearing up afterwards. This is now becoming a regular event and we look foreword to next years event on August 19th when Hathern Band will again treat us.
Look out for details of this years Carol Concert in Quorn Village Hall when Hathen Band will perform Carols accompanied by the audience and generous Christmas Cheer!
David Cawdell – Quorn Parish Council