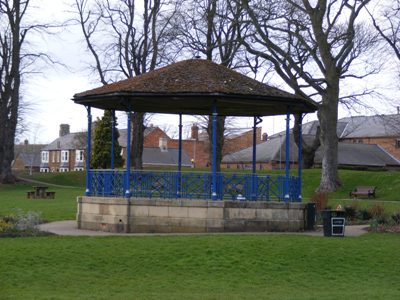 Concert Brass - Western Park, Leicester
Aug. 1, 2010
On Sunday the 18th of July, Hathern Concert Brass and their conductor Andrea Allen played at Western Park in Leicester. It was a very windy day but the band played well to a good sized audience who, despite being laden with chairs and travel rugs, huffed and puffed their way up the hill to the bandstand.
After a while the ice-cream van came, and as people went to get their ice-creams the band played on longing for their chance to indulge. The shortness of the interval prevented half time ice creams and still the van taunted them until … it disappeared down the hill causing a near mutiny in the Band and a threatened downing of sticks from the percussion section.
The concert finished patriotically with the National Anthem and a standing ovation – a crafty move by Andrea!
Report by Katie (2nd cornet Hathern Concert Brass)
Concert Brass - Kegworth Village Fair
July 12, 2010
On Saturday the 10th July Hathern Concert Brass, under their conductor Andrea Allen, played at Kegworth Village Fair. It was a very hot day with little breeze but they managed to get through the day playing from 12.00 noon until 12.30 p.m. having a 2 hour break before resuming playing at 2.30 until 3.00 p.m. The engagement was Rebecca Simm's first concert on Eb Bass. With thanks to the helping hands of Senior Band members, we managed to make it a very good and enjoyable event.
Report by Katie (2nd Cornet Hathern Concert Brass)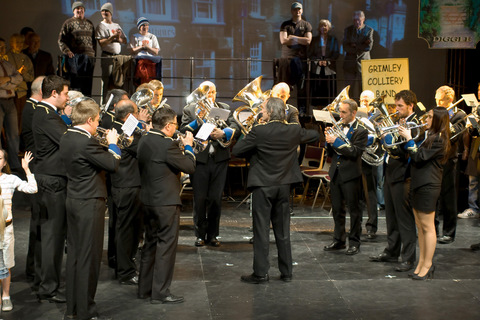 Hathern Band - Brassed Off
June 29, 2010
4BARSREST REPORT – Hathern enjoy the actor's life………….
Members of the Hathern Band have recently enjoyed being part of luvvy darling set after their performances in 'Brassed Off'.
A little piece of Yorkshire came to Leicestershire recently when Hathern Band joined forces with the local Festival Players in their production of 'Brassed Off' at Loughborough Town Hall.
The stage version of the popular film was played out to packed audiences for all four performances and the Hathern players not only demonstrated their musical abilities but were equally adept in their acting skills too – especially on the re-creation of the Whit Friday marches where a little too much beer was consumed!
All the familiar music from the film was heard including the 'Concerto de Aranjuez', which was beautifully played 'off stage' by Hathern's flugel horn player, Lesley Bentley.
Hathern's Musical Director, David Newman had also been persuaded to dust off his cornet for the production.
A spokesperson told 4BR: "The play was immensely enjoyable, expertly presented and a wonderful example of two local organisations joining forces to entertain the local community".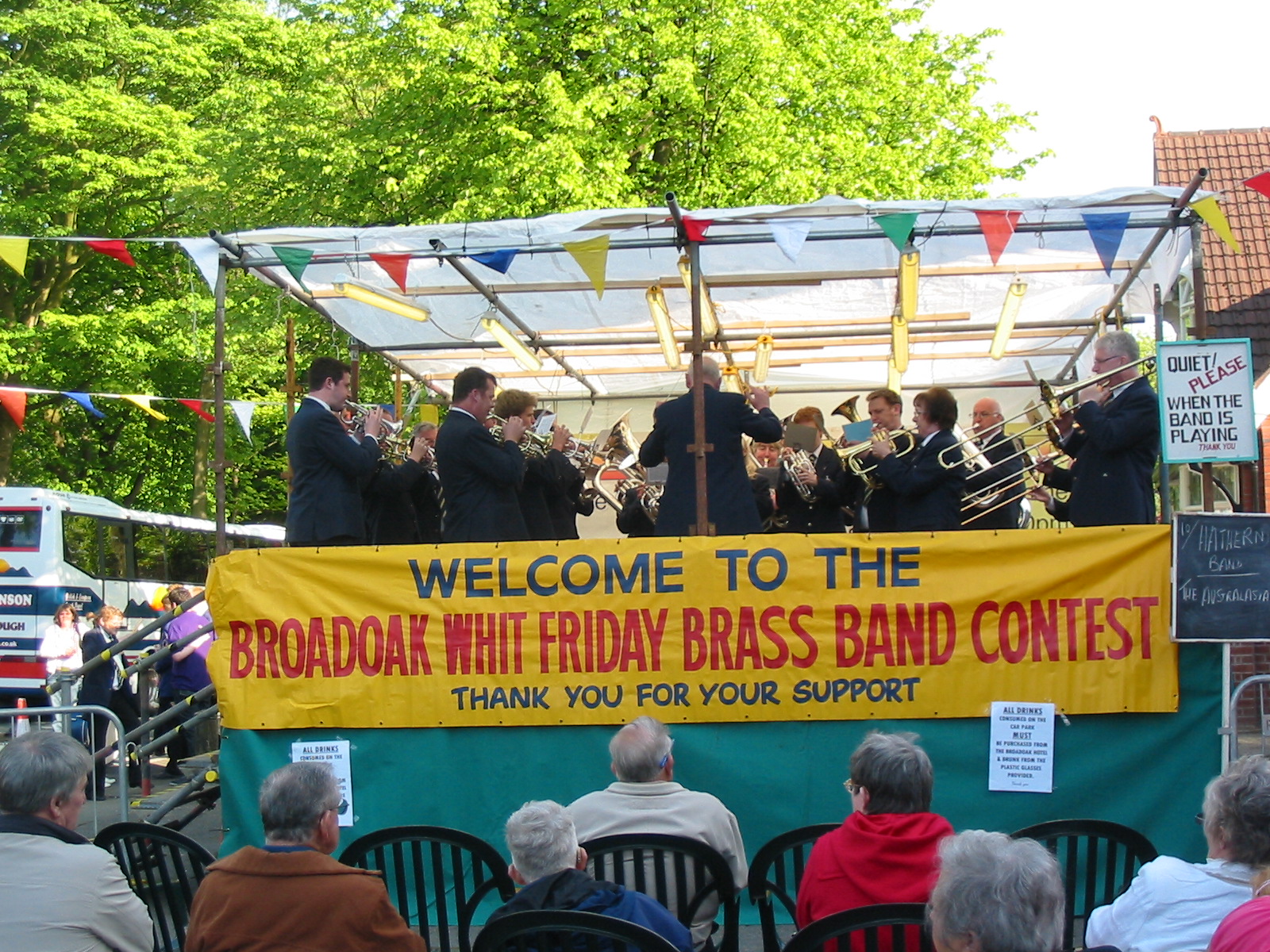 Hathern Band - New News for the New Website! Whit Friday
June 9, 2010
As the last piece of news appears to be a report of my elevation to the level of Robert Mugabe, I thought we should get back to reporting news on the Band.
On Friday 28th May the Band left Hathern at 1 p.m. to take part in the annual Whit Friday March Contest. We took part in 8 competitions achieving some very good results and took one or two scalps of major Championship Section Bands.
Not all went to plan when we began the first march at Audenshaw. When the Band began with Death or Glory, unfortunately Geoff Fletcher didn't come with us as he was still talking to the bus driver! At the second venue in a pub yard we listened to Fairey's, Hammonds then we played our contest march The Australasian and were then followed by Leyland Band, in exalted company indeed. This performance is available on youtube thanks to Simon Baum.
As you would expect one or two amusing moments happened during the evening, including two involving Simon. One when he took us the wrong way on the march in Broadoak, then when he began to march before anyone else doing a very passable performance of a flamingo, before the band caught up.
We went round the circuit in very quick time arriving at our final destination of Denton Cricket Club, our 8th performance, with some tired lips, at around 9.30 p.m. and we were then able to relax until departure at 11 o'clock arriving back in Hathern roughly 12 hours after we left.
Unfortunately because of work commitments not all the band were able to make it, but a great job was done by Steve & Jack Hunnybun, Andrew Haworth and Steve Matthews, from Concert Brass, Emily Taylor from the Youth Band, Mark Terner recently deported from Germany, one of our old boys James Fletcher of the little known Grimethorpe Colliery Band, Allan 'Maurice Murphy' Kent and a special thanks to Christian Lewis on Principal Cornet making a come back from his recent ban!! A special mention should also go to our driver, Gary Ball, who did a great job and kept us amused.
We are now working hard in preparation for the forthcoming production of Brassed Off and a report of the show will follow in due course.

New President!
Nov. 29, 2009
After 30 years of loyal service to the Band, David Newman was given the title of President of Hathern Band at the recent Patrons Evening. This means that he is finally a real member of the band!
For once… Dave was lost for words!