New President!
Nov. 29, 2009
After 30 years of loyal service to the Band, David Newman was given the title of President of Hathern Band at the recent Patrons Evening. This means that he is finally a real member of the band!
For once… Dave was lost for words!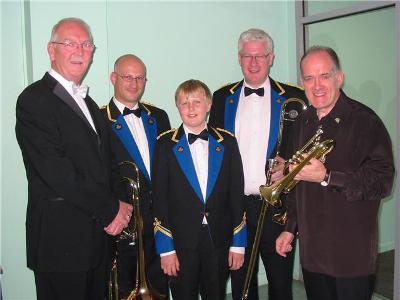 Hathern Band - Phillip McCann Concert
June 13, 2009
LOUGHBOROUGH ECHO REPORT JUNE 2009
Hathern Band was delighted to welcome guest cornet soloist Phillip McCann at their recent concert (13 June 2009) held at Burleigh College, Loughborough. Hathern Band's friendship with Mr McCann began 25 years ago when he officially opened their Bandroom and he has returned many times since to perform with the Band.
Hathern Band and Musical Director, David Newman, were in good form as they aptly started the proceedings with a great toe-tapping number, Another Opening Another Show, from the musical Kiss Me Kate. The Band's rendition of the Disney Fantasy was a real treat, as was the bass trombone solo by Mark Terner of I Only Have Eyes for You. The Band's performance of African Adventure composed by Darryl Barry for Brass Aid was very different and a great hit – no conductor and some natty choreography!
However, the highlight of the evening was the superb playing of cornet soloist Phillip McCann, which was hugely appreciated by the packed audience. Each performance was a delight and everyone was held spell bound by Mr McCann's stunning playing of seven wonderful numbers, including Russalka's Song to the Moon, I'll Take You Home Again Kathleen, Brahm's Lullaby, All That I Am and Grand Russian Fantasia. He also joined Hathern for the number, Funiculi, Funicula Rhapsody and a great compilation of the top hits from Jesus Christ Superstar. In response to the demand for an encore Phillip swapped his cornet for the post horn and gave a breathtaking rendition of the Post Horn Gallop, no doubt much appreciated by all Leicester City supporters!
The Hathern Organisation now comprises four bands (Training, Youth, Concert and Senior) and it was a very exciting evening for percussionist Jake (10, pictured above) of the Youth Band as he made his debut with the Senior Band. There were also several youngsters from the Training Band in the audience and budding cornet player, Freddie Buchanan (7) presented Mr McCann with a thank-you gift on behalf of the Band.