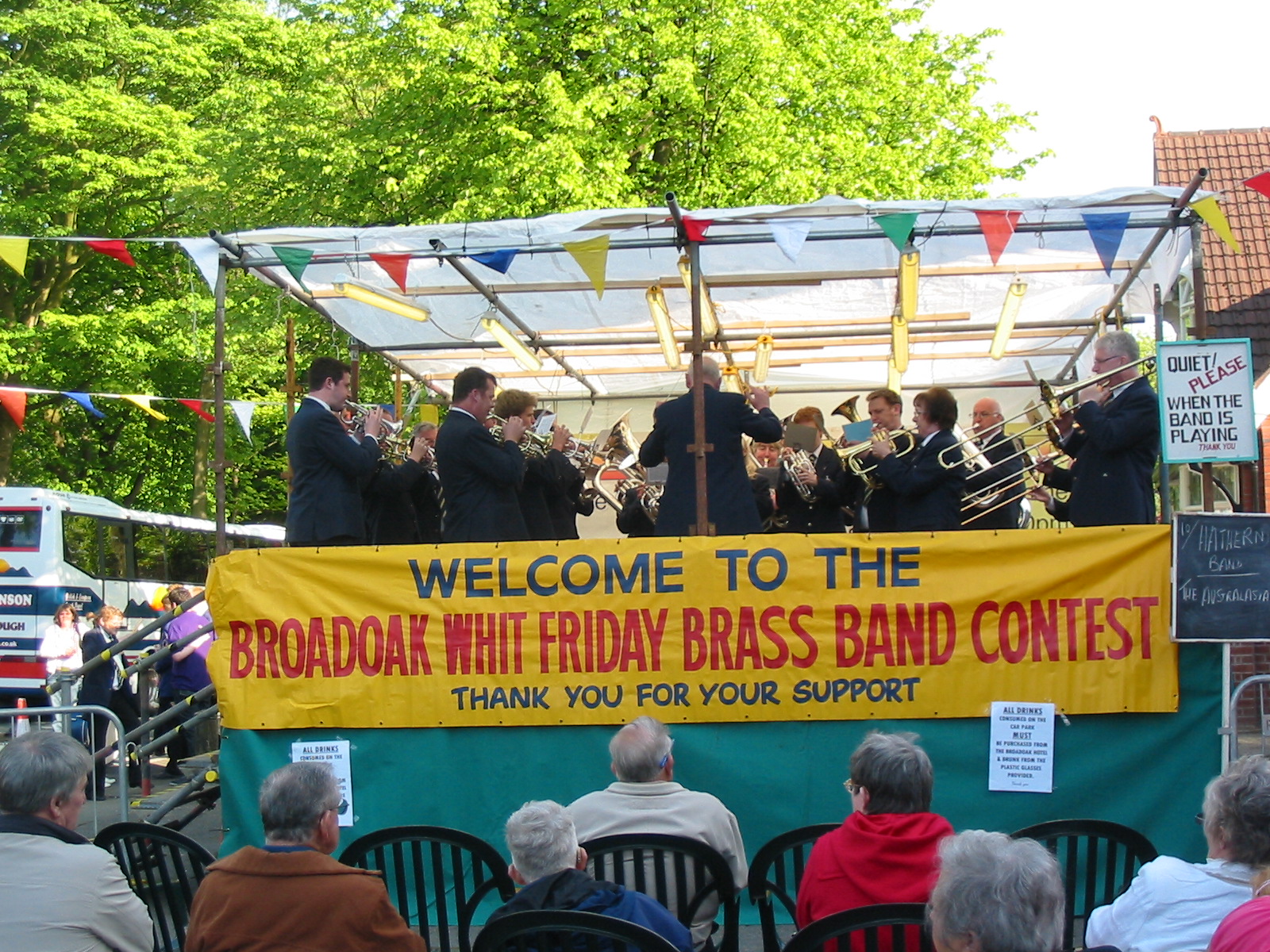 Hathern Band - New News for the New Website! Whit Friday
June 9, 2010
As the last piece of news appears to be a report of my elevation to the level of Robert Mugabe, I thought we should get back to reporting news on the Band.
On Friday 28th May the Band left Hathern at 1 p.m. to take part in the annual Whit Friday March Contest. We took part in 8 competitions achieving some very good results and took one or two scalps of major Championship Section Bands.
Not all went to plan when we began the first march at Audenshaw. When the Band began with Death or Glory, unfortunately Geoff Fletcher didn't come with us as he was still talking to the bus driver! At the second venue in a pub yard we listened to Fairey's, Hammonds then we played our contest march The Australasian and were then followed by Leyland Band, in exalted company indeed. This performance is available on youtube thanks to Simon Baum.
As you would expect one or two amusing moments happened during the evening, including two involving Simon. One when he took us the wrong way on the march in Broadoak, then when he began to march before anyone else doing a very passable performance of a flamingo, before the band caught up.
We went round the circuit in very quick time arriving at our final destination of Denton Cricket Club, our 8th performance, with some tired lips, at around 9.30 p.m. and we were then able to relax until departure at 11 o'clock arriving back in Hathern roughly 12 hours after we left.
Unfortunately because of work commitments not all the band were able to make it, but a great job was done by Steve & Jack Hunnybun, Andrew Haworth and Steve Matthews, from Concert Brass, Emily Taylor from the Youth Band, Mark Terner recently deported from Germany, one of our old boys James Fletcher of the little known Grimethorpe Colliery Band, Allan 'Maurice Murphy' Kent and a special thanks to Christian Lewis on Principal Cornet making a come back from his recent ban!! A special mention should also go to our driver, Gary Ball, who did a great job and kept us amused.
We are now working hard in preparation for the forthcoming production of Brassed Off and a report of the show will follow in due course.

New President!
Nov. 29, 2009
After 30 years of loyal service to the Band, David Newman was given the title of President of Hathern Band at the recent Patrons Evening. This means that he is finally a real member of the band!
For once… Dave was lost for words!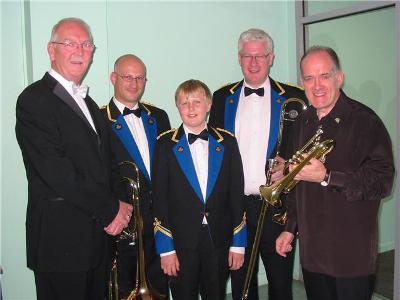 Hathern Band - Phillip McCann Concert
June 13, 2009
LOUGHBOROUGH ECHO REPORT JUNE 2009
Hathern Band was delighted to welcome guest cornet soloist Phillip McCann at their recent concert (13 June 2009) held at Burleigh College, Loughborough. Hathern Band's friendship with Mr McCann began 25 years ago when he officially opened their Bandroom and he has returned many times since to perform with the Band.
Hathern Band and Musical Director, David Newman, were in good form as they aptly started the proceedings with a great toe-tapping number, Another Opening Another Show, from the musical Kiss Me Kate. The Band's rendition of the Disney Fantasy was a real treat, as was the bass trombone solo by Mark Terner of I Only Have Eyes for You. The Band's performance of African Adventure composed by Darryl Barry for Brass Aid was very different and a great hit – no conductor and some natty choreography!
However, the highlight of the evening was the superb playing of cornet soloist Phillip McCann, which was hugely appreciated by the packed audience. Each performance was a delight and everyone was held spell bound by Mr McCann's stunning playing of seven wonderful numbers, including Russalka's Song to the Moon, I'll Take You Home Again Kathleen, Brahm's Lullaby, All That I Am and Grand Russian Fantasia. He also joined Hathern for the number, Funiculi, Funicula Rhapsody and a great compilation of the top hits from Jesus Christ Superstar. In response to the demand for an encore Phillip swapped his cornet for the post horn and gave a breathtaking rendition of the Post Horn Gallop, no doubt much appreciated by all Leicester City supporters!
The Hathern Organisation now comprises four bands (Training, Youth, Concert and Senior) and it was a very exciting evening for percussionist Jake (10, pictured above) of the Youth Band as he made his debut with the Senior Band. There were also several youngsters from the Training Band in the audience and budding cornet player, Freddie Buchanan (7) presented Mr McCann with a thank-you gift on behalf of the Band.