Training & Youth Band at Groby Contest
Sept. 27, 2015
Well done to the young players who took part in the Groby Solo/Duet & Quartet Contest at Groby Community College on Sunday 27th September –
Oliver Simpson, Amadea Tristanto, Stephen Geurin, Jack Browne & Rian Grindley
Jack received a 2nd Prize in his age group and Rian and Amadea 3rd Prizes. Stephen got a 3rd Prize in the 16 – 18 year Slow Melody and 2nd Prize in the sight-reading.
The next Contest will be in April 2016 when hopefully more of Hathern`s young players will attend.
Patrons Evening
Sept. 20, 2015
Hathern Band once again entertained their Patrons with music, food and drink! a very popular evening with David Newman bringing out his joke book once again! The Senior Band awards were made and Congratulations to –
Bandsman of the Year (The Joan Crayfourd Memorial Trophy) to Sam Garton awarded not only for her playing and music arrangements but for all her work behind the scenes
Players Player (The Joanne Wood Memorial Trophy) this is voted for by the players, unfortunately the only time Graham has missed an engagement! as he was in A & E having a tooth out. The award was presented to Graham at the following band rehearsal
A big welcome was given to Marian Vervoort from the Netherlands who was visiting the Band once again, always great to see her
The Patrons were once again thanked for all their support
Hathern Band - WI Concert
Sept. 18, 2015
The Band gave a concert at Charnwood College for the WI to celebrate their 100 years. A very entertaining evening with a very appreciative audience. Simon Baum, Graham Rix and Joe Southgate showed their skill playing in their solo items and the band amused the audience with their first half finishing piece of Haydn`s Farewell Symphony (leaving only Mike Wood & Susan Robinson on the stage!) and returned to start the second with the players gradually walking onto the stage playing Show me the Way to go Home. A vote of thanks for a wonderful evening from Janet Kirk the Chairman of the Leicestershire WI was given.
Summer with the Concert Brass
Sept. 6, 2015
The Concert Brass played to a large audience at the annual Horticultural Show at the 3 Crowns in Hathern on Sunday 30th August. The rain eventually stopped play! but not before the band had entertained with their playing and amused the audience with ways of keeping dry!
The weather was just the opposite on their visit to Sutton Bonington Show on Sunday 6th September this time having to shelter under a gazebo to keep out of the sun. A very entertaining programme given by the band with Andrea's YMCA dance being the highlight!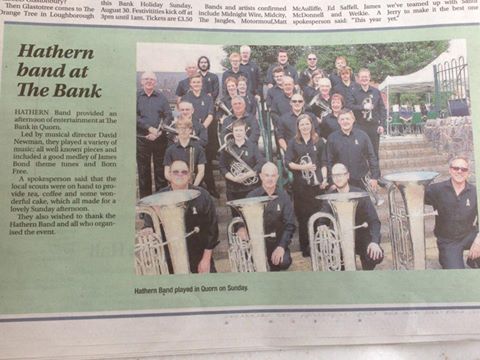 Hathern Band Concert in Quorn
Aug. 16, 2015
Hathern Band – Concert on The Banks in Quorn on the 16th August – picture in the Echo!