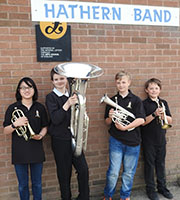 Youth Band Quartet
April 24, 2016
Hathern Youth Band Quartet who claimed the 3rd Prize in the Hymn Tune section at the Leicestershire Brass Band Association Solo, Duet and Quartet Contest held at Groby College.
Pictured from the left – Amadeo Tristanto (cornet) Sam Edwards (Eb Bass) Jack Browne (Tenor Horn) and Oliver Simpson (cornet)
WELL DONE!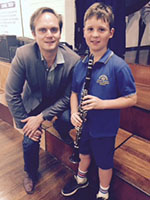 Richard & Will
April 1, 2016
Hathern Band Down Under!
Band Patrons Joy and Barrie Atkinson recently visited their son and his family in Sydney. One evening they went to see their grandson Will, who plays clarinet, in concert and found that Richard Sandham was conducting. Richard learnt to play with Hathern Band, played with the Central Band of the RAF and now works as a Program Manager and Conductor for Directions in Music – a music education service, which provides Sydney schools with band programs and instrumental tuition. Richard composed the piece Pasture Lane for us which is featured on our latest CD. Our photo shows Richard and Will at band practice on Will's ninth birthday. What a small world!!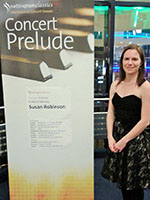 Susan at the Royal
March 1, 2016
Susan Robinson is not only a fine cornet player, but also a talented pianist. She was invited to perform as the "pre-concert pianist" at Nottingham's Royal Concert Hall ahead of the Philharmonia Orchestra concert on 5 February. Susan entertained for 45 minutes before the concert and ten minutes at the interval. Her programme included memorable classical music by Bach, Chopin, Brahms, Schumann, Debussy and Grieg plus more modern pieces like Erroll Garner's Misty and Forgotten Dreams by Leroy Anderson. On the previous Sunday Susan gave a preview in the band room for band members, patrons and friends who thoroughly enjoyed the performance.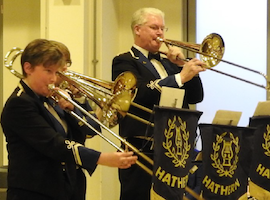 Newsletter Winter 2016
Feb. 17, 2016
Our winter newsletter is now available: click here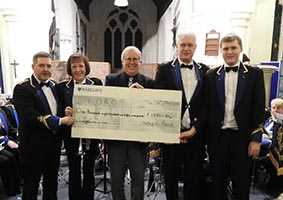 Annual Concert in aid of LOROS
Jan. 17, 2016
Hathern Senior Band's first concert in 2016 (16 January) was a Charity event in aid of LOROS, the Leicestershire & Rutland Hospice, and the capacity audience in the village Parish Church thoroughly enjoyed the evening's entertainment. The Charity has particular significance to Hathern Band as three members of the organisation have been cared for by LOROS in recent years.
The Band were certainly on top form and together with Musical Director David Newman, treated the audience to a varied programme, which demonstrated the diversity of music played by brass bands; contrary to popular belief it's not all traditional marches! Indeed, we were brought very much up to date with a lively rendition of the Pharrell Williams number, Happy. Throughout the evening several members of the band took centre stage: trombonists Simon Baum and Amber Lewis gave an amusing performance of Me & My Shadow; the cornet section of Mike Wood, Susan Robinson, Tom Wallage, Lesley Bentley & Ken Powell took us on a brisk Bugler's Holiday and a very florid rendition of Grandfather's Clock was excellently performed on euphonium by Graham Rix.
Hathern is still very much a village band and local lad Dru Sparks was featured on flugel horn, in the beautiful number Ashokan Farewell and the appropriately titled What Would I Do Without My Music had been arranged by tenor horn player and local lass, Sam Garton. Hathern Band has a very strong training and youth policy and it was very pleasing that a number of youngsters performing had recently progressed to the Senior Band, i.e Stephen Guerin, William Fairlamb, Leo Parry, Ed Hefferman and George Baum.
The concert was a huge success and raised £1,851.81 for the Leicestershire Hospice, including a donation of £750.00 from Barclays Bank under their match funding scheme. The cheque was accepted by Adrian Walker of LOROS who thanked everyone for achieving such a splendid amount, which would go towards caring for the 2,500 people who are helped by LOROS annually. He was also delighted to announce that an extension of the Hospice is due to begin this year to improve the day therapy facilities, which on completion in 2017 will be able to cater for 25 patients each day.
On behalf of Hathern Band, David Newman thanked Barclays for their on-going support of this concert, which has now raised nearly £32,000.00 for LOROS since the first one 16 years ago. He also thanked everyone involved with the concert, particularly Band Secretary Lesley Bentley, Hathern Church Members for their help and also the audience, as without such support it would not have been possible to raise over £1,800.00 for the Leicestershire & Rutland Hospice.